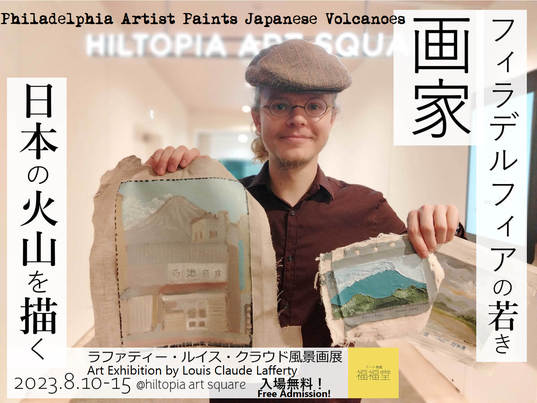 The editorial department of FFD interviewed Louis Claude Lafferty, who will have a solo exhibition at Hiltopia Art Square,  in Nishi-Shinjuku, from August 10 to 15, 2023 – please enjoy.
Hello Mr. Louis, nice to meet you today.
"Hello. Nice to meet you."
Louis-san, you are going to have a solo exhibition in Tokyo. What were you like as a child?
"My mother is an artist. Because of her influence, I have been drawing pictures since I was a child. I spent a lot of my childhood in her studio."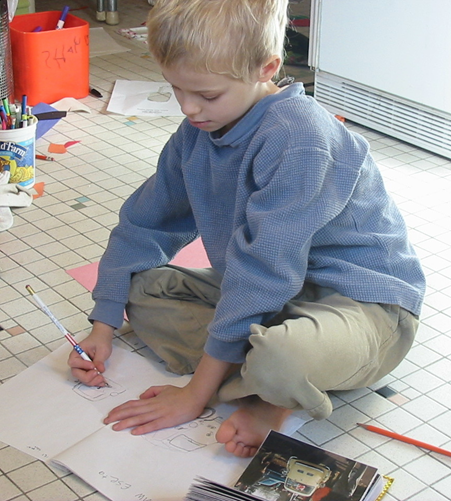 'I learned to paint directly from my mother. Her work is made by sewing fabric together, and that has influenced my art style to this day. My mother still works in Philadelphia, USA."
Are you originally from Philadelphia? It's on the East Coast, halfway between New York and Washington. What kind of city is it?
"My hometown, Philadelphia, Pennsylvania, is a city with lots of art on the streets. It's famous for its murals."
That's wonderful.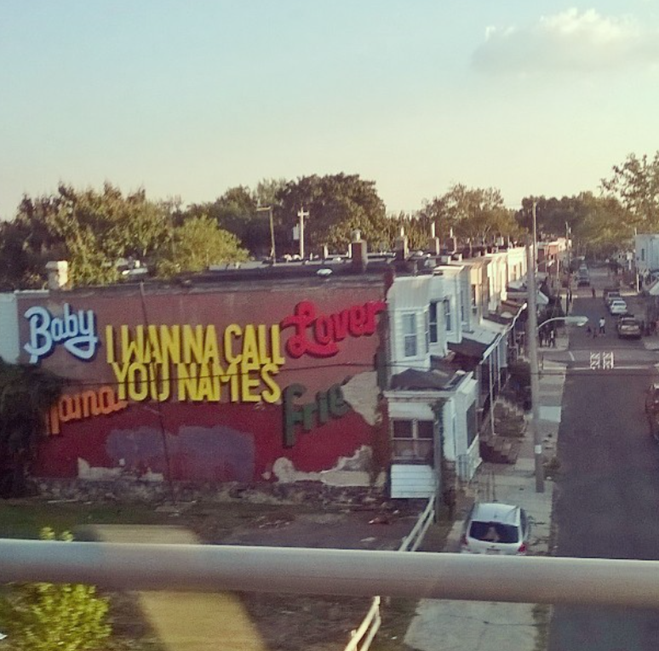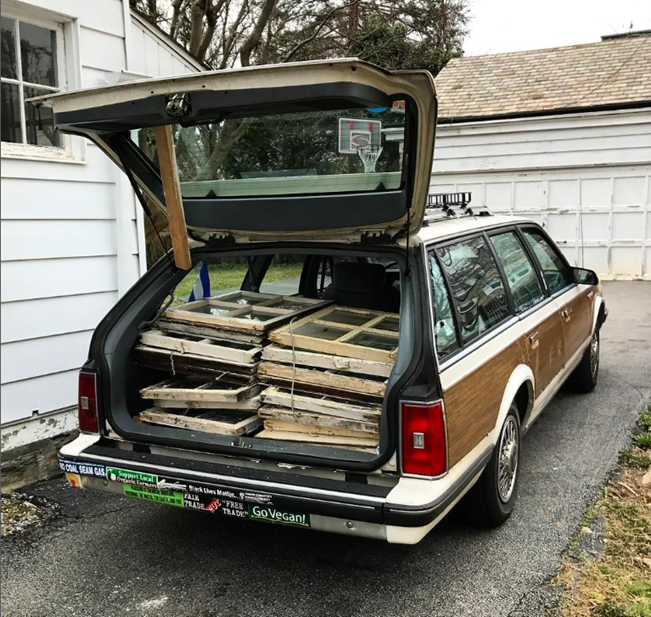 "Yes, but it is not as beautiful or as clean as Japan. There is garbage everywhere. It is not very pleasant in daily life. But it can be useful for artists. For example, when someone is demolishing a building, old pieces of wood are left on the street. Most of my paintings in my hometown were made from wood or other materials found on the street, which I used as canvases."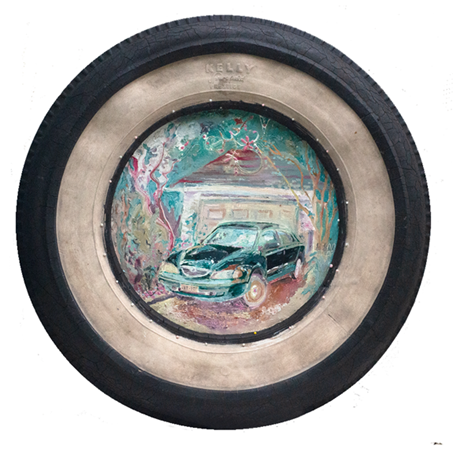 There is a connection between everyday life and painting, isn't there?
"Yes, they are. For me, painting is like a diary. I paint to preserve memories. Whenever I have a place or an emotion I don't want to forget, I can look at the painting I did there and remember the exact time and place I painted it."
I see. You are such a painter, Louis, but when did you come to Japan?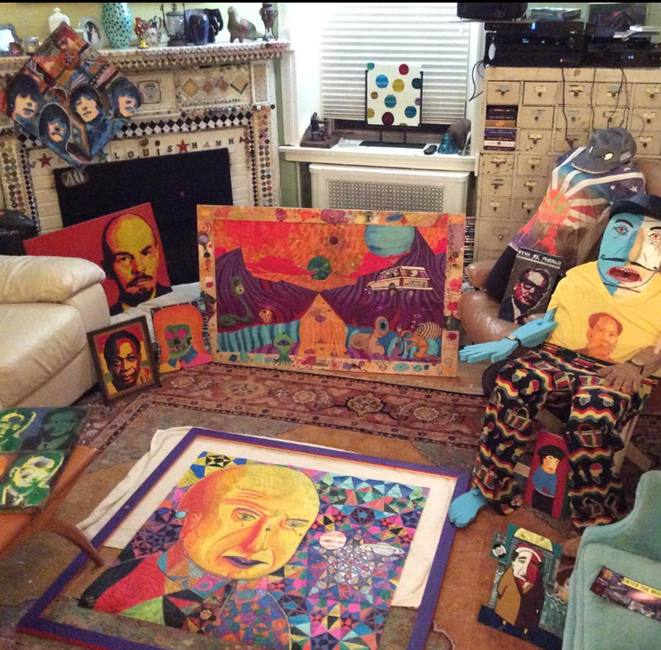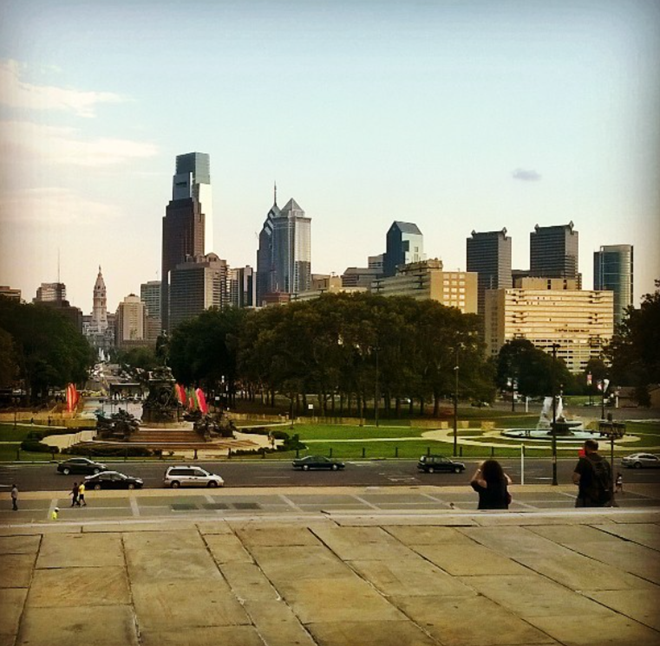 "I came to Japan in January 2020. I was a student at Temple University in Philadelphia, which has a Japan campus. So I came to Japan to study art."
If you came to Japan in 2020, it would have coincided with the Corona outbreak. It must have been difficult.
"Yes, it was. In 2021, I was waiting for the Japanese border to open. That's when I decided to drive to Mexico and live in my grandmother's 1998 Mazda."
While you were waiting, you traveled through Mexico. Did you go there to paint?
"Yes, I did. I drove from town to town and painted what I saw. There is not as much trash in Mexico as there is in the United States. In Mexico, there is not much trash on the streets. So it was difficult to make wooden frames for the canvases. I built my first wooden canvas stretchers during a trip to the town of San Blas in the Mexican state of Nayarit."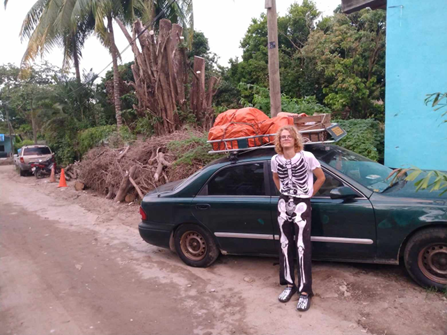 "In my hour of need, I found a crate of fruit on the street. With a few modifications, I was able to turn them into stretcher bars for canvases."
So you made your own canvases in Mexico?
"Yes. I made some crates and covered them with fabric that I used to cover the windows of my car. That's how I made my first canvas."
So you did a lot of creative things to paint while traveling by car through Mexico?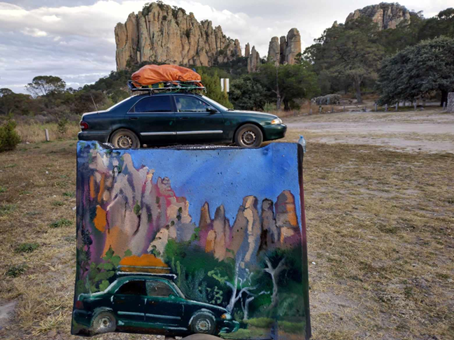 "Yes, I did. This method worked for a while. But eventually I ran into some problems. Why do you think that was?"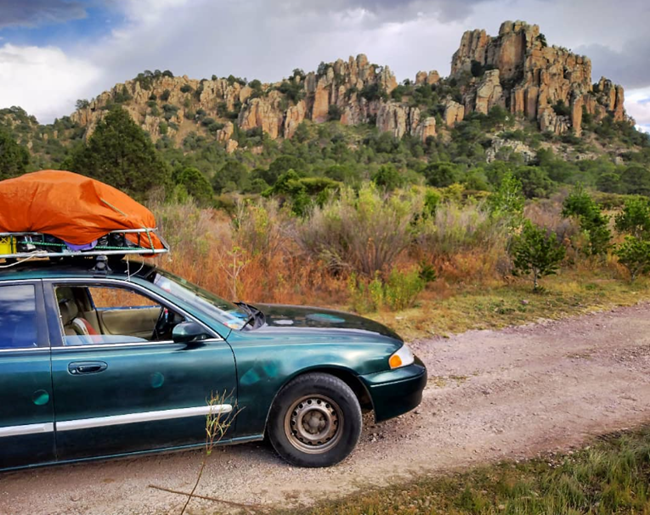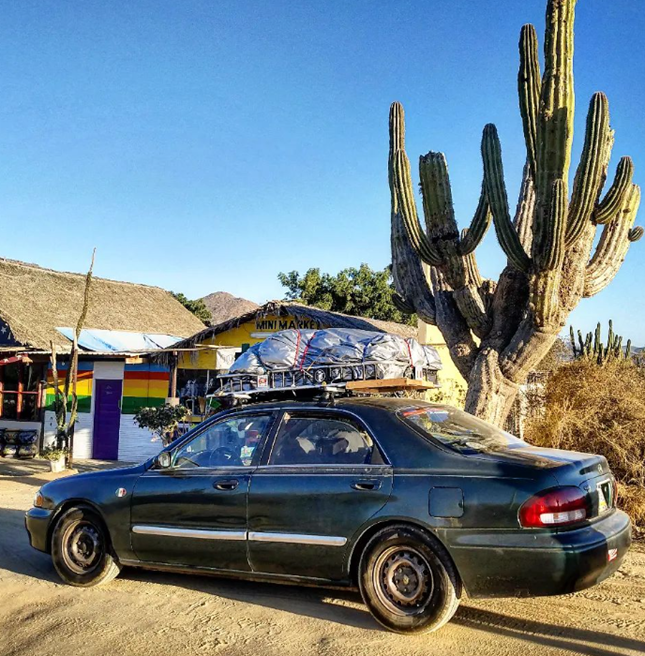 Didn't you run out of places to put your paintings in the car?
'"Yes! After about 30 paintings my car was completely full and I had no place to sleep. I started putting my paintings inside each other to save space. In other words, a 'Matryoshka on Canvas.'"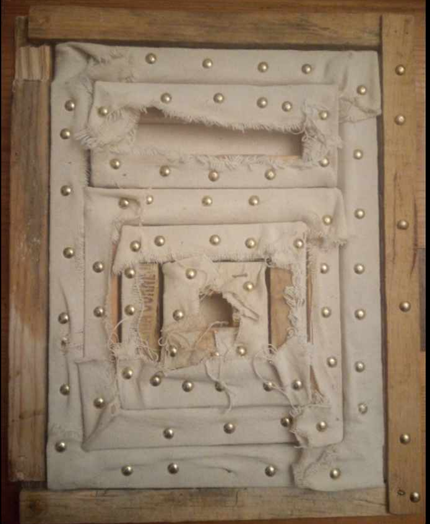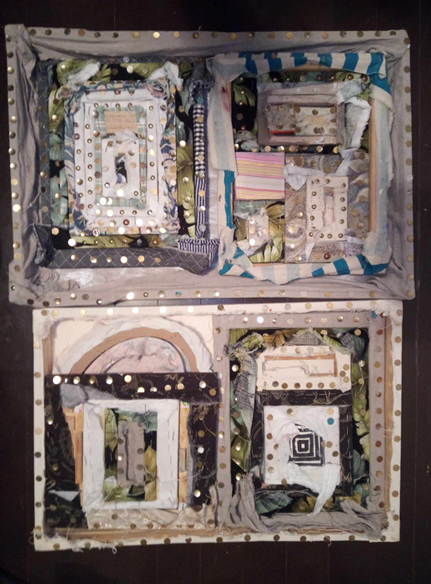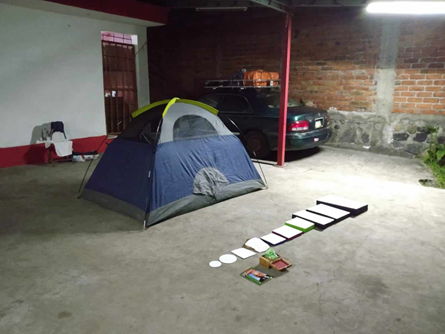 I see. So you nest them in wooden crates of different sizes, like large, medium, and small. It's flat and saves space.
'"As they say, "Necessity is the mother of invention'". It was also difficult to find wooden crates to make each canvas. In Mexico, crates of fruit are not always available. I knew that when I returned to my house in Japan, I would no longer have my Mazda to store my paintings, so the space would be even smaller. So I decided to make a solid "Matryoshka Canvas" with the intention of taking it back to Japan. The first one was a six-tiered storage type. The canvas is made of a wooden frame on which the painted cloth is removed, and a new cloth is then stretched over the canvas again. The "Matryoshka Canvas" was made from a Mexican fruit box, and it was very well made. I designed it so that it could be reused over and over again."
The "Matryoshka Canvas" is a good name. The name "Matryoshka Canvas" is a good one, and it conjures up images in my mind.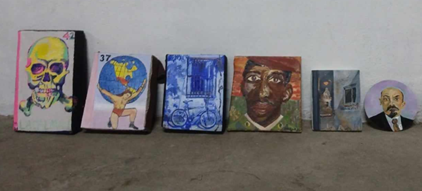 "Thank you very much. Since I came to Japan, I try to remove the painting from the wooden frame after it is dry. Then I reuse the same wooden frame. This way I am able to paint very efficiently. It saves time and space. In Mexico I painted about 30-40 paintings, but in Japan I painted almost 200 in the same amount of time. This is because I no longer have to make a new crate for every painting, and I use the same crates over and over again."
Being able to paint a lot is a good thing for an artist. Earlier, you mentioned that your work is like a diary. What kind of motifs have you painted in Japan?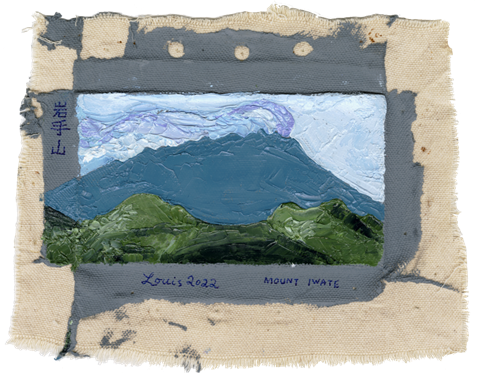 "I like volcanoes, and in fact I painted some in Mexico. Japan is a country with many volcanoes. I have traveled all over Japan to paint volcanoes. I have visited volcanoes such as Mount Komagatake in Hokkaido, Mount Iwate, Mount Mihara, Mount Fuji, Mount Omuro, and Sakurajima. I am very inspired to paint Japanese nature, especially the volcanoes that are with the Japanese people's lives."
I didn't realize how much I took that environment for granted, but Japan is one of the most volcanic countries in the world, isn't that right?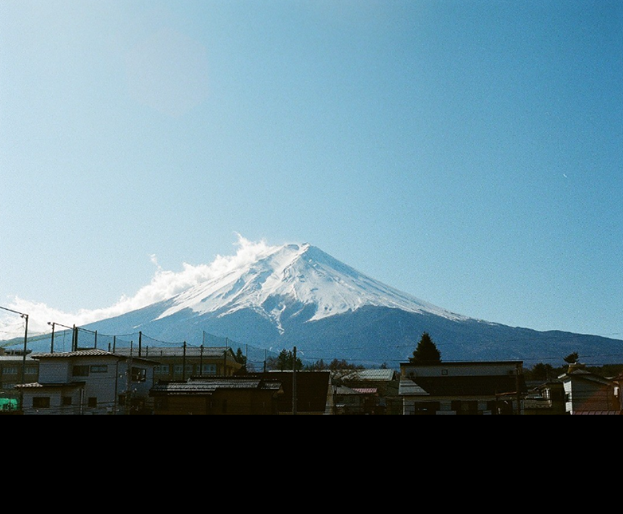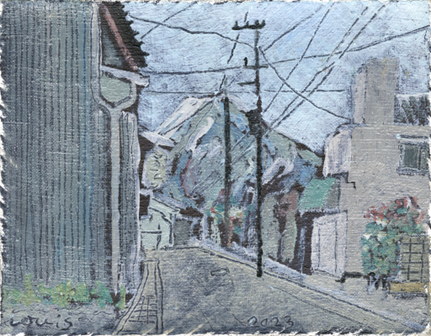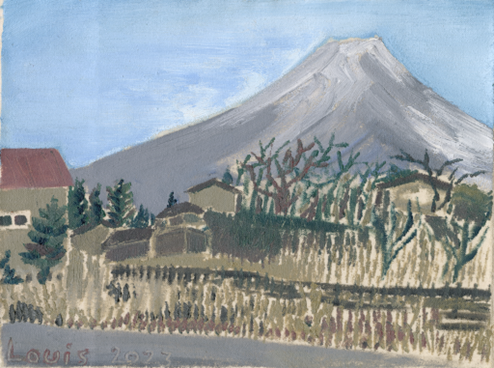 "Volcanoes have great energy that attracts people. Not only do they produce hot springs and geothermal power, but the nutrients they bring from the earth's interior enrich the soil and benefit both plants and animals. I don't know all the scientific details, but perhaps it is this connection between the benefits of nature and people that moves me."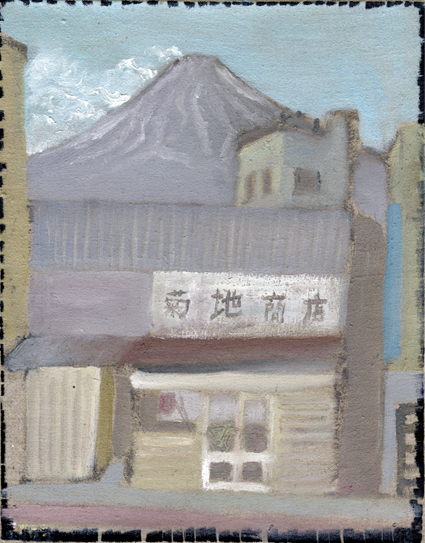 In your volcano paintings, you can see the mountains behind the stores and feel close to nature. I was fascinated by the indescribable uniqueness of Louis's paintings.
By the way, can you tell us about any memorable moments from your trip to Japan to visit volcanoes?
"Yes, I did. One weekend I decided to try my hand at painting. I took a ferry from Tokyo to Izu Oshima Island and brought two sets of "Matryoshka Canvases" with me. My goal was to paint on all the canvases this weekend – ten."
Ten canvases in just one weekend is quite a challenge, isn't it?
"Yes, it was. I arrived at Izu Oshima at around 6 am. As soon as I got off the boat, I saw Mt. Fuji at dawn.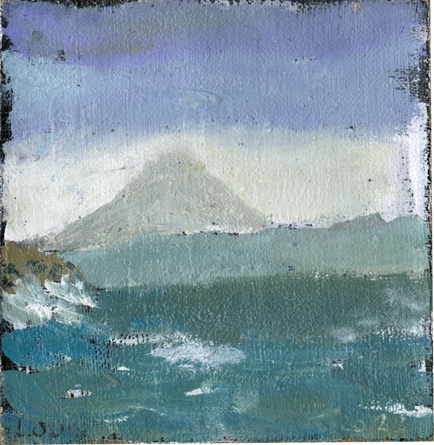 I spent the rest of the day painting boats and statues around the island, but I really wanted to paint Mt. Mihara up close."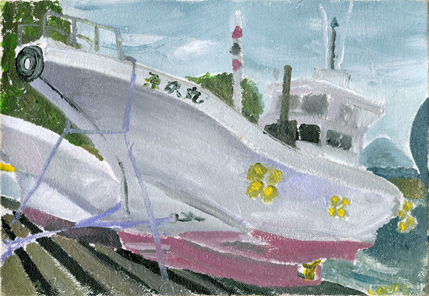 "From Okata Harbor in the north of the island, Mt. Mihara is blocked by sheer cliffs. After sleeping in a tent next to the zoo, I decided to get up early the next morning and climb to the top of the volcano to draw the top of Mt. Mihara up close.
It was a steep slope to climb by bicycle, and it took a very long time to climb to the top. The whole time I was climbing, monkeys were howling in the dense forest.
When I finally passed through the forest, Mt. Mihara appeared and it was like a dream. I stood at the limit of the lava flow from the 1986 eruption. From there I could see the volcano clearly and beautifully. I painted from that vantage point and made my way to the summit."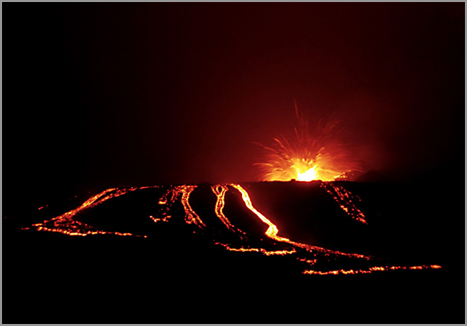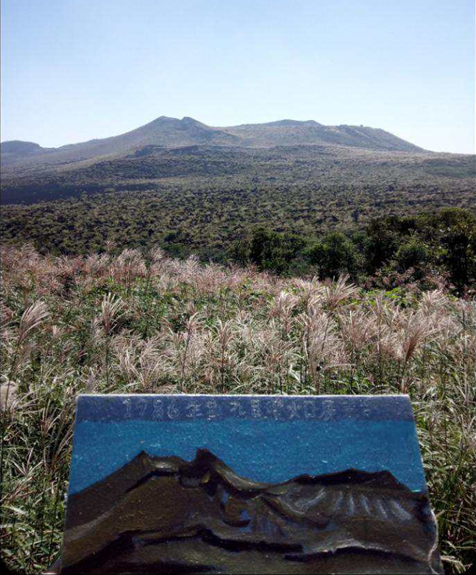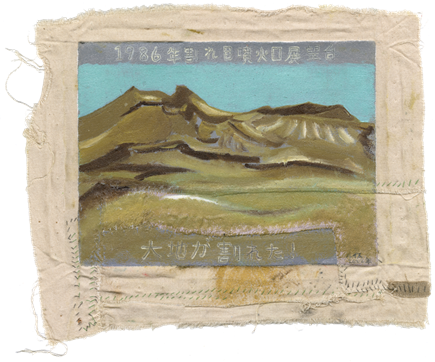 "Shortly thereafter, I painted another picture of the inside of the crater. The volcano looked like it was about to erupt, and as you can imagine, I was a little scared. So I hurried to paint it. After that, I painted a picture of Mt. Fuji seen in the distance from the top of Mt. That night I was preparing to camp near the top of Mt. Mihara, when a man passing by reminded me, 'If there is an eruption in the evening, you will definitely be killed. I decided to bike down the mountain a bit, but it was starting to get dark. If I went too far, I would have to sleep in the monkey forest. But if I didn't go far enough, I would be at risk if there was an eruption."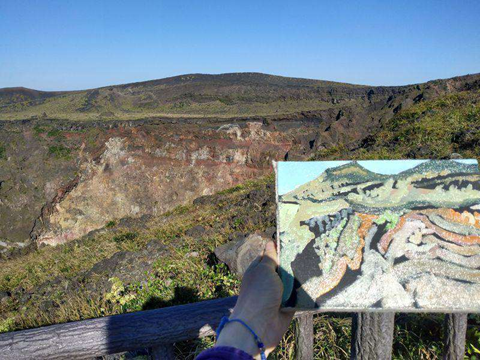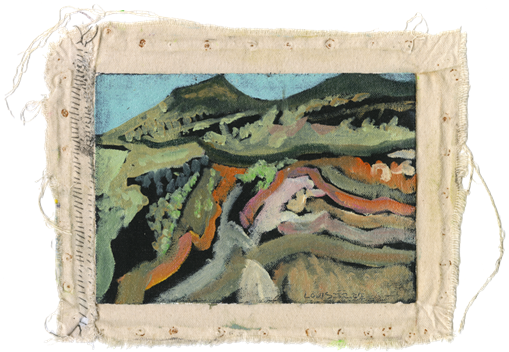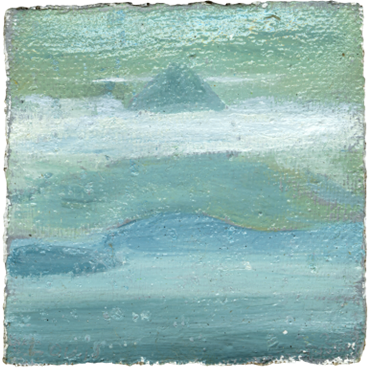 "I found a small clearing near a closed hotel and pitched my tent there for the night. The next morning I woke up very early. It was cold, foggy, and monkeys were all around me! The fog was too thick to see the volcano from close up, so I decided to bike back to the ocean.
That afternoon I had to catch a ferry back to Tokyo. It took me less than 30 minutes to bike down the same road I had spent the day before climbing! I sprinted down the winding mountain road, passing by monkeys as I went."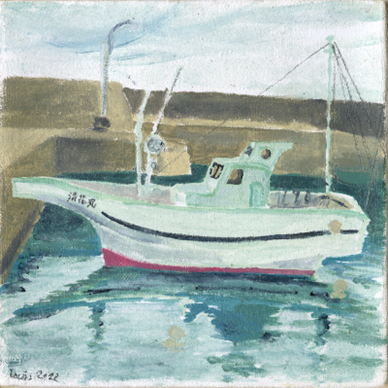 "I returned to Okada Harbor and leisurely painted a picture of a fishing boat at a nearby dock. As the time of departure approached, I noticed that not many people were around. I found a port official and asked if this was the right place to board the ferry. He told me, "Due to the weather, the ferry leaves from Motomachi Port, 10 kilometers away." The departure time was approaching, so I hurried to the port on my bicycle. The fog had already begun to lift. It was only then that I learned that from Motomachi Port, I could get a panoramic view of Mt. Mihara without having to spend a whole day climbing through the Monkey Forest!
I only learned this a few hours before heading home, but I was still pleased with what turned out to be a memorable experience and a cool painting."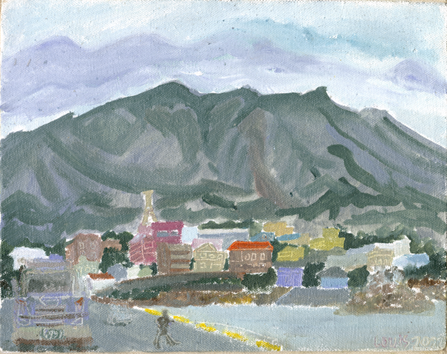 "I had time to do a quick painting at the port with the Mihara Mountain buildings in the foreground. This was my ninth painting of the weekend, and out of the ten I painted, nine were good, but I was sad that I did not reach my goal. Only the smallest of the "Matryoshka Canvases" still remained. A small rectangular one with a golden underpainting. The ship was about to leave, so there was no time left."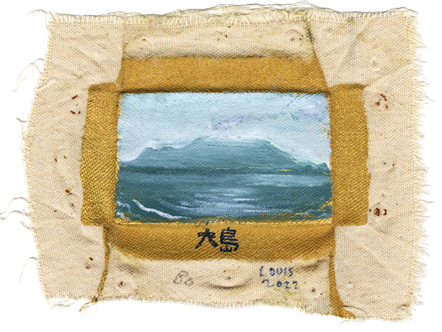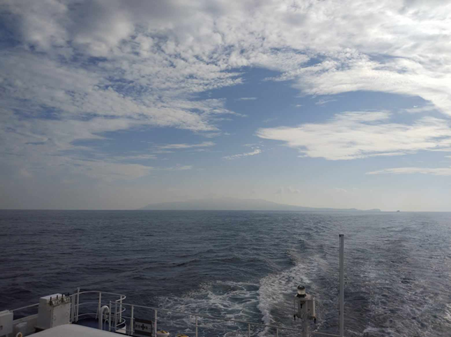 "The ship has left. From the boat I saw Izu Oshima from every angle. Dolphins were playing in the waves our boat was creating. It was magical. And I knew this was the perfect place to complete my final picture. Izu Oshima was still barely visible in the distance, but it was an incredible sight. I sat in the back of the boat and completed my tenth painting."
It was a very engaging story. Thank you very much!
We look forward to seeing your solo exhibition.
Exhibition information of Louis Claude Lafferty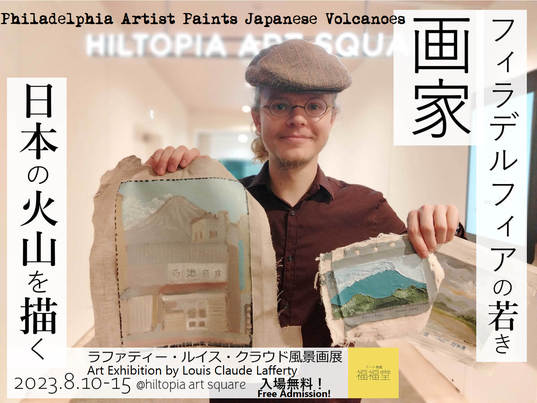 Young Philadelphia Artist Paints Japanese Volcanoes
~Louis Claude Lafferty Landscape Painting Exhibition~
Dates: Thursday, August 10 – Tuesday, August 15, 2023
Time: 11:00 – 18:30 *Close at 14:30 on the last day
Admission Free